It's Time
As part of our series of conversations with Zepto company founders and leadership team, we sat down with Ian Lennie for his insights on the company journey so far, and why it's time for Zepto to level the paying field.
I like simplicity. And I really like account-to-account payments. That might seem pretty unsexy, but they're the ultimate leveller, and their time is now.
Credit cards have done the heavy lifting in payment innovation for decades. But they're not great for B2B payments, nor in other significant areas of the economy. Sure, they're handy for consumers when used astutely but, for merchants, they're an expensive way to acquire customer funds. Fees are regularly passed on to us at the checkout, and usage is on the decline.
Frankly, in an age of instant everything, we should all be able to pay directly [and instantly] from our bank accounts into merchant accounts. Just click and–zepto!–the merchant has your cleared funds, and your new goods are on their way. Better for merchants, and better for consumers, right?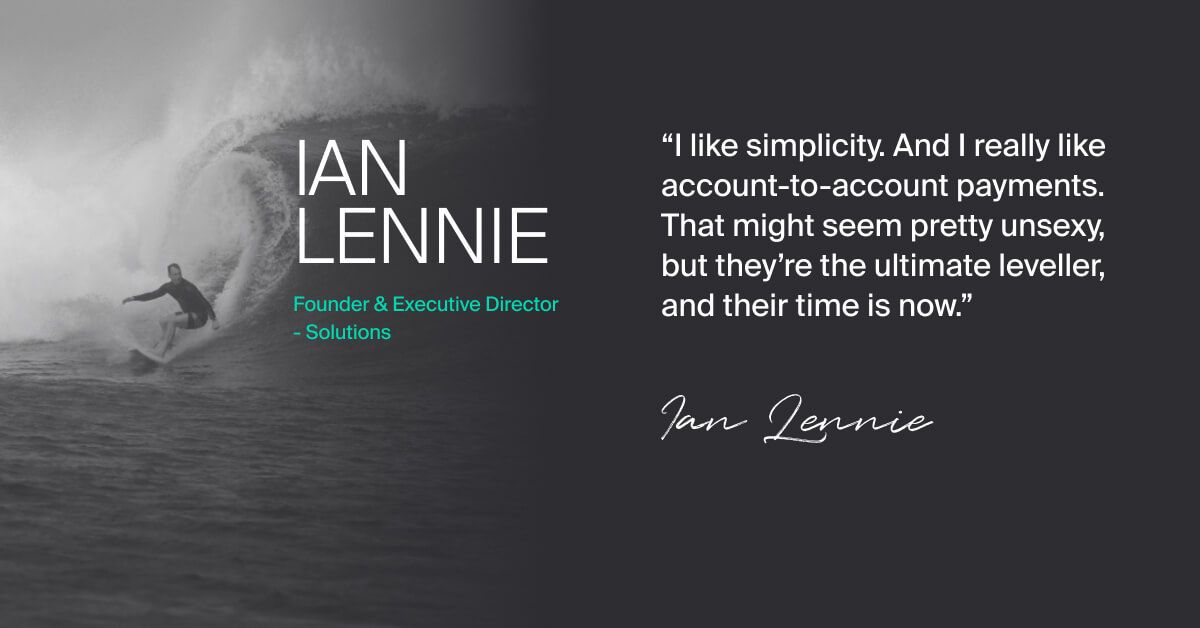 When we set out on our quest to level the paying field as Split Payments, we were naive to the complexities of card processing. The first time we sat down with a third party processor they took us through a standard credit card processing flow, showing how many entities touched the transaction, how many clips came out of that sub-transaction, who charged what, who was responsible for this between issuer, acquirer or gateway and so on. It was astonishing how complicated the system had become to initiate a simple transaction between two entities. Not to mention the costs added at every step.
Their response when I sketched out the ultra simple process enabled by the capabilities and solutions we had developed, told us in no uncertain terms that we were on to something, and strengthened our resolve about the beauty of the simplicity of account-to-account payments.
Not too long before that, we had been merchants ourselves. Payments had frustrated us immensely–perhaps more than anything else in business. Our approach to creating a better payments platform at the time was about squeezing as much as we could out of existing systems. We went deep into the payment infrastructure of the time, broke it down and thought about how to deliver it most effectively for complicated payment flows in a seamless, simple and accessible API.
We knew that simply delivering incremental change from the old system would deliver massive benefits to business in areas of efficiency and process. We also knew that the real-time opportunity that was taking shape just over the horizon would deliver seismic, once-in-a-generation change, and we were determined to lead from the front in that space.
How we pay for things now is changing really fast. Think about how Apple Pay, Google Pay and Uber embed the payment experience in their offerings, and how we fund our buy-now-pay-later purchases. To date, each of these has relied on pulling down on cards. But that's changing, too.
The convenience, security and consumer protections that come with cards, can now be applied to bank account payments. Through new infrastructure layers and our open banking insights, we will deliver this. This is our vision for account-to-account payments.
A confluence of critical factors has shone a spotlight on now. Real-time payments infrastructure, a changing economy, automation, data-led business decision making, new consumer behaviour and expectations all point to this moment.
As payments infrastructure rolls out and our capabilities grow, so does my obsession with account-to-account payments. As we dismantle the friction points, remove legacy impediments and smooth everything out, we're creating the modern payments ecosystem the on-demand economy demands and consumers expect.
Our simple, logical solutions squeeze every bit out of the opportunity of now.
It's time to level the paying field.
Next Up