Fintech CTO of the Year
Meet Trevor Wistaff: Fintech CTO of the Year
It was a memorable night for Zepto at the 6th Annual Fintech Awards, with our company Co-Founder and Chief Technology Officer, Trevor Wistaff, named FinTech CTO of the Year.
Australia's Annual Fintech Awards program has been run and won, and it delivered another great result for Zepto.
The Annual Fintech Awards seeks to recognise success in the sector in its many forms, and celebrates the best innovations created by Australia's best innovators and entrepreneurs.
One of those very entrepreneurs is Trevor Wistaff who co-founded Zepto [originally as Split Payments] with long-time collaborators and business partners Ian Lennie, Matt Cheers and Adrian Kennedy in 2018. Wistaff was delighted to be recognised as Fintech CTO of the Year, but asserted that for the team at Zepto, 'winning' is about much more than awards nights.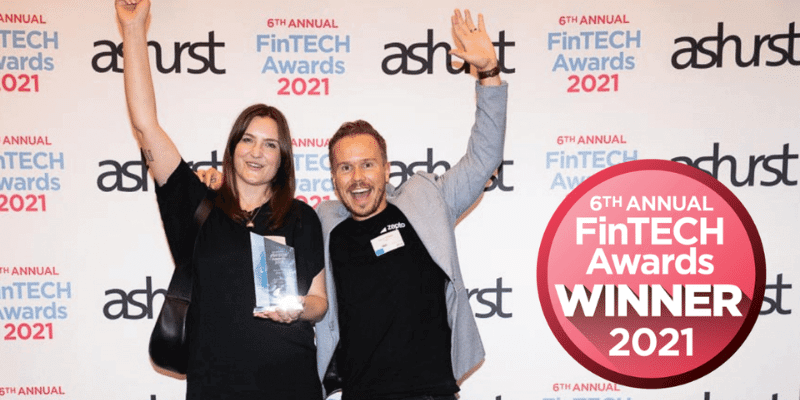 Zepto's Lucy Davey and Trevor Wistaff celebrate Trevor's Fintech CTO of the Year award.
"We don't do what we do just to win awards, we do it to win through others. That's a company value we hold dearly–it keeps us focused on delivering the very best solutions for our merchant partners and their customers,"
"You can't be a great CTO without a brilliant team. So this award is really all about them. 2021 has been huge for Zepto, and being acknowledged like this at the Annual Fintech Awards is the perfect way to see out our most remarkable year yet," added Trevor.
It was full program for Zepto, having also been named on two other finalists shortlists shortlisted as finalists:
Best Fintech Payments Provider

Best Fintech & Non-Bank Collaboration with the team from

Bluestone Mortgages
We congratulate Zepto partner, Novatti Group, for being named the Best Fintech Payments Provider, and Hay as a Service for taking out the Best Fintech & Non-Bank Collaboration award.
Well done, too, to all winners in every hotly contested category.
Attended by Senator Andrew Bragg, the awards gala celebrated the achievements of the extraordinary people and businesses thriving in Australia's fintech sector.
Describing the judging process this year, Glen Frost, Founder of the FinTech Awards said, "On behalf of all the Judges involved this year, we would like to thank all the fintechs and individuals who took the time to enter into the FinTech Awards – the number of entries has increased, reflecting the growth in the fintech economy in Australia, and the quality of the submissions is again excellent – making it super hard for the Judges."
We get it. As a member of the Tech Council of Australia, Zepto appreciates the caliber of ambitious Fintechs doing world-class things in this country. We are regularly inspired by the smarts, capabilities and quality of work being done in our sector. Brilliant people and clever Australian companies are truly making a global splash.
Next Up