PACK YOUR BAGS
A
tailor-made

solution

We understand the tourism industry's payment quirks and frustrations. After all, it's where we came from.
Because Zepto truly understands the challenges, we've designed the most secure and transparent travel payments platform available today–a platform tailor made for the travel & tourism industry.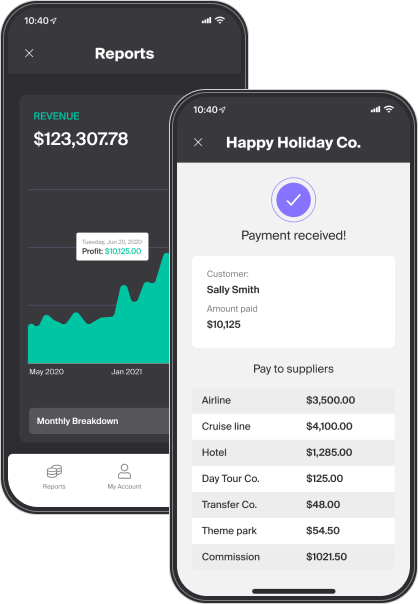 Grow your business
Not your back office. Set customised trading terms for each of your supplier partners, process and reconcile real-time transactions automatically, reduce errors, and provide complete transparency for all parties.
Reimagine the way money moves
Zepto's tourism payments solution creates dynamic agreements between agents and operators that easily enables alternative payments such as refunds.
An integration passport
Zepto's API integrates seamlessly with ticketing, reservations, wholesaling or accounting software, to enable real-time transactions that are automatically processed and reconciled.
Core solutions
Receive
Simplify customer-initiated payments and receive funds instantly with 100% data accuracy, real-time messaging, settlement and automatic reconciliation.
Collect
Traditional direct debit has had its day. Our merchant-initiated payment solutions eliminate dishonours, reduce fraud and errors, and power faster clearances, too.
Send
Pay out and disburse funds instantly anytime–including weekends and public holidays–on NPP payment rails, and take your customer experience to another level.
Refund
Customers expect real-time everything, including refunds. Reimagine the movement of money with fully-automated, real time, data rich refunds that clear in seconds.
Manage
Choose your own payments adventure and create the perfect payment environment with granular and accurate reporting all driven programmatically by a flexible and robust API.