PARTY TIME
Payments,
Reimagined.
Climb aboard the Zepto express, and instantly explore a new world of high-speed payment solutions on real-time payment rails.
Modern businesses need modern payments solutions, and they need them now. Zepto's high-speed, light-touch integration and on-boarding give 3rd-party processors a genuine first-mover advantage.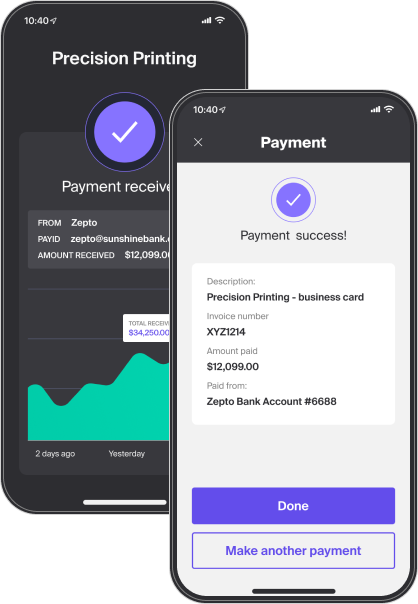 Confidence, Compliance & Capability
Zepto is an NPP Connected Institution, an AusPayNet Tier 2 BECS participant, authorised & licensed by ASIC for non-cash payments, compliant with APRA Prudential Standards and is a registered SWIFT Bank. Very robust foundations indeed.
A Seamless Payments Experience
Keep your customers at the heart of everything you do by building a seamless, modern, UX-first payments solution. Work with Zepto's solutions & UX experts to reimagine a payments solution that works for your business and your customers.
Best-in-Breed Tech & Standards
Zepto employs a cloud-native, cloud-agnostic, zero-trust model where information is generated, persisted and managed on AWS. Our overall cloud posture is designed inline with the AWS Well-Architected standard, while Trend Micro Cloud One Conformity is employed to ensure ongoing compliance and adherence to best practice standards. If it can be built, it can be built securely on the Zepto platform.
Core solutions
Receive
Simplify customer-initiated payments and receive funds instantly with 100% data accuracy, real-time messaging, settlement and automatic reconciliation.
Collect
Traditional direct debit has had its day. Our merchant-initiated payment solutions eliminate dishonours, reduce fraud and errors, and power faster clearances, too.
Send
Pay out and disburse funds instantly anytime–including weekends and public holidays–on NPP payment rails, and take your customer experience to another level.
Refund
Customers expect real-time everything, including refunds. Reimagine the movement of money with fully-automated, real time, data rich refunds that clear in seconds.
Manage
Choose your own payments adventure and create the perfect payment environment with granular and accurate reporting all driven programmatically by a flexible and robust API.