RECEIVE
Receive

in real time

Zepto's real-time capabilities deliver funds into your account with 100% data accuracy, real-time messaging, settlement and reconciliation the moment a transaction occurs. Payments have never been this fast or smart.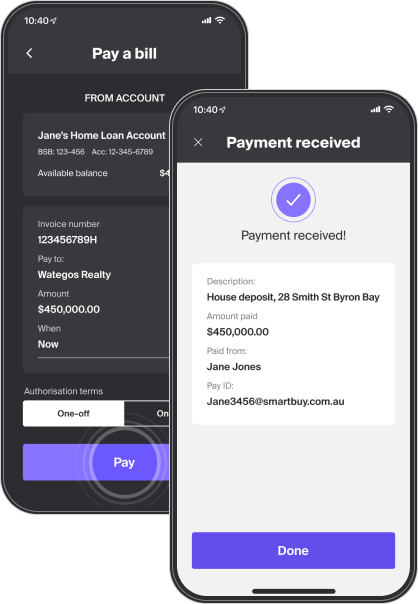 Business transformation
Zepto's PayID-powered solutions smooth over expensive payment pain points including reconciliation headaches, process inefficiencies, funding lags, errors and unauthorised payments.
Easy payments
Create a payment experience that your customers actually like. Know precisely who paid for what instantly, and accelerate your product and service delivery.
Simplicity & security
Zepto's API provides direct, secure connectivity to the NPP's payment rails, and powers real-time receivables at any scale.
Highly Consumable API
Zepto's API does the heavy lifting of accepting, verifying, managing and reconciling, so you don't have to. Use our superior API documentation and sandbox environment to build, test, and launch your solution with full integration support.
Developers
CUSTOMERS
It's time to level the paying field
Financial Services
Zepto helps organisations reimagine the way money moves through the financial services industry
Merchants
Zepto's API and easy integration gives merchants the benefits of tomorrow's payments ecosystem today.