READY-SET-TRADE
Instant
Account Funding
Zepto's Instant Account Funding solution enables simple, secure, flexible and frictionless real-time funding of user accounts—perfect for share trading, crypto exchanges, digital wallets and gaming platforms, too.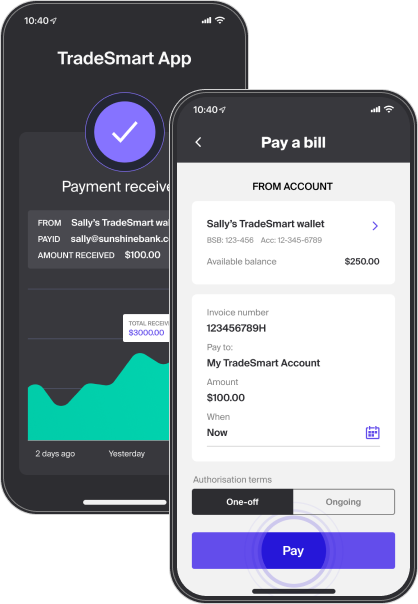 Time-critical transactions
When customers spot an opportunity for a time critical share trade or wager, they need to take action immediately. Zepto powers frictionless movement of funds between accounts so customers can not only freely manage their stocks, tips and digital wallets in real-time, but their cash too.
Configurable & responsive
Zepto's instant account funding solutions are highly configurable, super-responsive, integrate seamlessly, and support multiple use cases. Create a unique PayID for every customer to facilitate instant, easy funding and accurate, automated reconciliation.
Grow your business
Real-time account funding means customers can easily fund their accounts–did someone say 'copy & paste'?–and take action when they need to. It's lightning fast, on-demand and always on.
Why we love PayID
PayID is a simple, low cost digital payment option for receiving fast payments from your customers straight into your account. PayID payments happen instantly and securely even between accounts at different banks. It can be used for all kinds of payments, and it's always on, 24×7, every day of the year.
It's smarter, too. PayID includes a confirmation step before the payment is made so users can check they are paying the right person or business.
CUSTOMERS
It's time to level the paying field
Financial Services
Zepto helps organisations reimagine the way money moves through the financial services industry
Merchants
Zepto's API and easy integration gives merchants the benefits of tomorrow's payments ecosystem today.