AWARDS
Carolyn Breeze - Fintech Leader of the Year
Just when we thought the year was winding down to a nice restful close, a pair of major awards announcements has us all abuzz again.
We reported last week on Zepto co-founder, Trevor Wistaff, being named Fintech CTO of the Year at the 6th Annual Fintech Awards–an achievement of which we're rightfully proud. And now to top things off, Zepto CCO, Carolyn Breeze has been named Fintech Leader of the Year at the 2021 Women in Finance Awards.
This is deserved recognition for a respected and experienced leader.
This prestigious awards program presents an exceptional opportunity for leading women to showcase their achievements, and give them the recognition they deserve. From entrepreneurs to CEOs, from accounting to banking and finance, the national awards program is the benchmark event for recognising female talent in the Australian finance industry.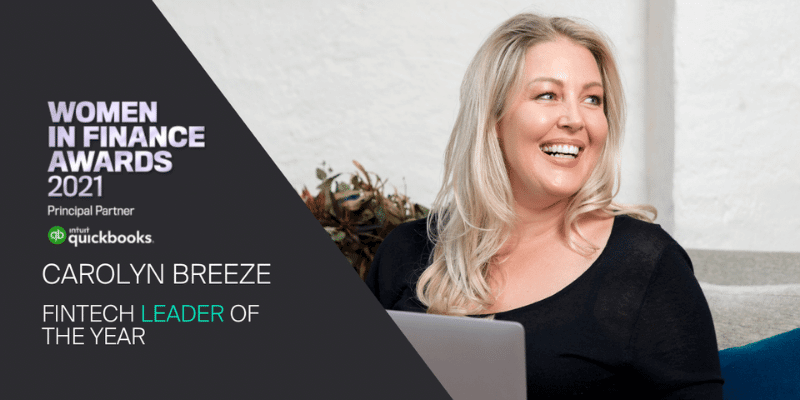 Being recognised as Fintech Leader of the Year from a field of remarkably talented people is humbling and mind-blowing. Our respective industries are brimming with incredible talent. We are shaping the future of finance in Australia–all of us. It is so incredibly exciting to be part of.
Over a career of more than two decades, Carolyn has amassed enviable international experience in fintech, SaaS, e-commerce, and telecommunications at global businesses like GoCardless, Braintree, PayPal, eBay, Vodafone, and Telstra.
Passionate about leadership, payments and digital transformation, Carolyn describes her purpose as 'empowering organisations to drive inclusion and equality through technology and accessibility.'
With an affinity for supporting aspiring female leaders and innovators, Carolyn is an advisory board member of The Global Association of Women in Payments, and to organisations such as Brauz, iMedia, Retail Global and Frontliners Australia. She gives back to the industry as a Startmate Mentor, and Airtree Network Member.
Zepto congratulates every finalist and winner at the 2021 Women in Finance Awards.
This has been a year to remember for Zepto. And not just on the awards and recognition front.
Sure, Zepto was a finalist in multiple categories at The Finnies, and finished 2nd in a red-hot field at the Australian Financial Review BOSS Most Innovative Companies Awards, but 2021 has been about so much more than that.
The business has grown significantly in every measurable way, and the path ahead is crystal clear.
We are building the bridge to inevitability.
Join us.
Next Up