It's Time to Level the Paying Field
We sat down with Zepto CEO Chris Jewell for his thoughts on why right now is the time to level the paying field.
There is a confluence of critical factors pointing to this very moment. From embedded finance, the adoption of cloud native technology, and a regulatory environment that's driving real-time payments and open banking into the mainstream, the always-on digital economy demands modern payment channels.
The opportunity of this moment for Zepto is to imagine and enable new payment experiences that fit seamlessly into and shape consumer habits and expectations. Part of that is delivering merchant capability that they've never had before. Capability that not only enhances customer experiences, but also delivers business cost and process transformation.
For 50 years, merchants have had to conform to the limited payment capabilities of legacy infrastructure. Merchants who challenged the status quo were met by a tangle of barriers to entry, and prohibitive integration challenges to overcome the shortcomings of the incumbent providers' offerings.
But we're at this point right now, where the market can see a massive uplift in capability, and the dismantling of barriers by Fintechs like Zepto, and that has changed everything.
Merchants are more open to change now than they have ever been. Across the board, they're looking for any advantage, any customer experience enhancement, any opportunity to drive loyalty, to deliver richer customer data and, right now, they're looking at payment experiences as a source of these.
With each passing day, we're a step closer to unlocking yet another opportunity that wasn't possible just two or three months ago. Regulation is supporting us to do that, technology is enabling us to do that, and consumer awareness of better payment experiences is demanding it.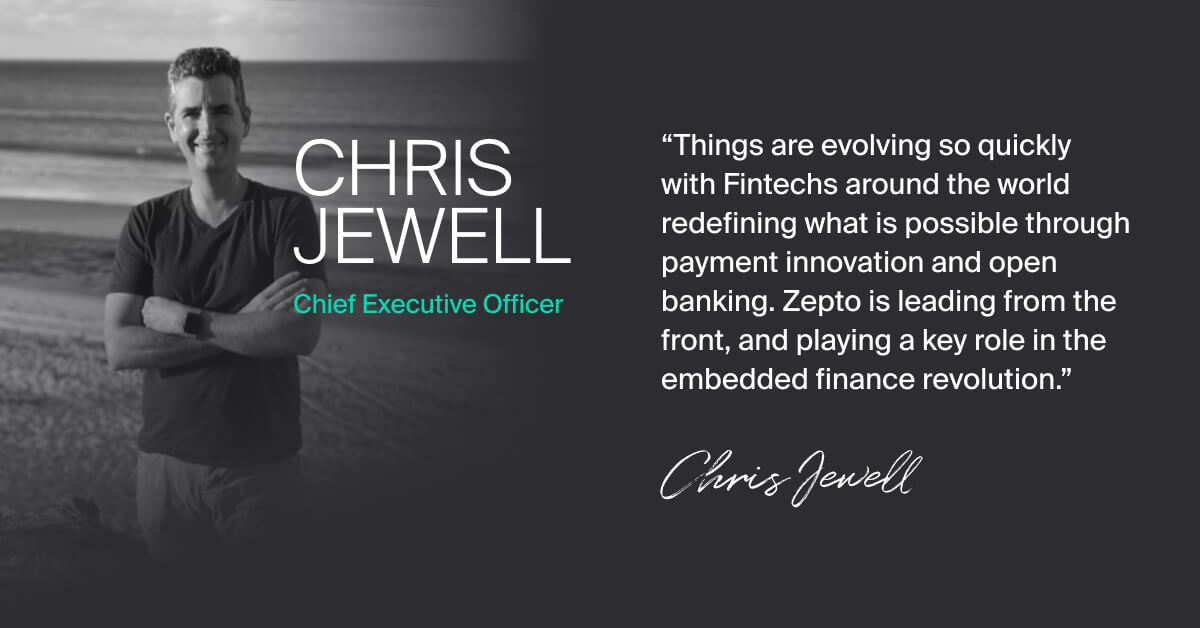 Our vision is to see seamless embedded payments environments accessible to everyone, everywhere. We're powering that revolution.
Multiple factors are converging to a point where there is no blocker anymore. Fintechs are driving the agenda and the roadmap now, and incumbents are struggling to keep up. We are in a world now where we can reimagine just about everything, and that's super exciting.
Proud of who we are, proud of a new brand, and proud of our culture, it's time for us to make our mark and lead from the front on a global stage where some of the biggest names in the world are creating tomorrow's payments experiences. We are in there, creating the future of payments that will last for the next 50 years. And to be doing that as Zepto now is especially exciting for all of us.
Zepto's influence will be profound. It's hard to express how passionate we are about this. We have an incredible opportunity to redefine what is possible with payments by adding more, but seemingly less.
It's time to level the paying field.
Next Up